Blog
"Slip slidin' away." Simon and Garfunkel. Existing Home Sales slipped in February, but all the good news didn't slide away.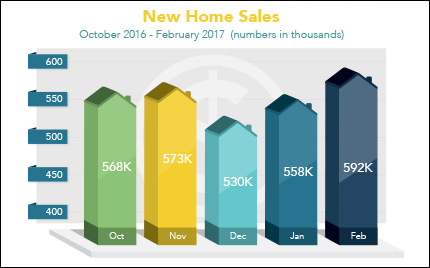 On the positive side, sales of new single-family houses in February hit a seven-month high and were up 6.1 percent from January to a seasonally-adjusted annual rate of 592,000, according to the Commerce Department. New Home Sales in January also were revised up to a rate of 558,000. February's sales are 12.8 percent above the February 2016 estimate and a welcome sign to prospective homebuyers who have struggled with limited inventory and rising home prices throughout the country.

After starting 2017 at the fastest pace in almost a decade, Existing Home Sales slid in February, according to the National Association of REALTORS®. Despite the slide, sales remain above February 2016 levels nationally and in all major regions.

Existing Home Sales fell 3.7 percent from January to a seasonally-adjusted annual rate of 5.48 million in February, but are still 5.4 percent above a year ago. Total existing housing inventory for sale at the end of February increased from January. However, inventory is 6.4 percent lower than a year ago and has fallen year over year for 21 straight months.

Homebuyers and those looking to refinance also had good news this week as Mortgage Bonds, and the home loan rates tied to them, benefited from the uncertainty that emanated out of Washington D.C. In the lead-up to the healthcare reform vote originally scheduled in the House for Thursday, investors weren't comfortable with the uncertainty surrounding the bill, giving Mortgage Bonds a boost midweek. Currently, home loan rates remain near historic lows.

If you or someone you know has any questions about current home loan rates or products, please don't hesitate to contact me.